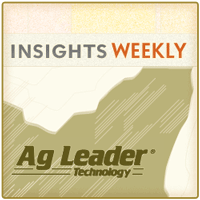 We've all heard the scary statistic that the work farmers do every day to provide our nation with the safest, most abundant food supply in the world is also the most dangerous. That's right: The National Safety Council's 2009 edition of Injury Facts ranked agriculture as our nation's most dangerous industry.
Farmers are continually aware of the personal risk they take to put food on America's dinner tables. However, there are steps that each and every farmer takes to make sure their farm is safe, the environment is safe, and their equipment is safe. And that includes the use of precision technology.
For example, did you know the VERSA and INTEGRA displays from Ag Leader have four camera inputs to aid in visibility? This provides farmers a better view of equipment operation and safety by allowing them to view live video on the display.
And, guidance features in displays, as well as automated and automatic steering systems, help reduce operator fatigue. That means when the busy spring planting time rolls around and farmers are working long hours, precision ag technology allows them to maintain accuracy with less neck strain. Randy Szczpiorski, farmer from New Carlisle, Ind., said, "It's just unbelievable that I can turn around and see a corn planter operating. Before I always concentrated on straight rows, but now I can turn around and see that the planter is working properly. At the end of the day, I don't feel I've planted half of what I did. The reduced stress on your neck is quite remarkable."
As U.S. farmers are being asked to do more with less in order to feed a world that will grow to 8 billion people in the next 14 years, they will have to rely on technology. And with this great burden comes risk. What lengths are you taking to make sure your farm equipment is safe? Ask about precision technology from Ag Leader today.
Become a fan of Ag Leader on Facebook today, and get the latest precision ag videos on the YouTube channel. For more information about Ag Leader products and services, or to visit the blog site, go to www.agleader.com.