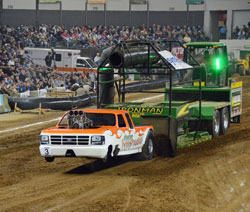 No coverage of the National Farm Machinery Show is complete without a video from the Championship Tractor Pull.
Officially introduced in 1969 during the 4th National Farm Machinery Show (NFMS), the Championship Tractor Pull has now been making champions for 44 years. More than 75,000 fans of the nation's oldest indoor tractor pull pack Freedom Hall each year to experience five performances in four days.
To find out this year's champions, check out all the results posted on the farmmachineryshow.org website.
2012 National Farm Machinery Show Photo Album
Coverage of the National Farm Machinery Show is sponsored by Ag Leader Technology