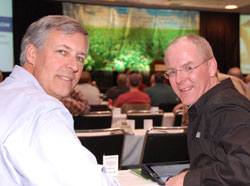 Executives of the GROWMARK system are very pleased with response to the FS Green Plan Solutions program to help growers discover new methods that will help them attain maximum yields.
GROWMARK CEO Jeff Solberg (left) and Vice President of Agronomy Jim Spradlin both attended the Pursuit of Maximum Yields (POMY) grower event last week in Collinsville, Illinois. Solberg says the program is designed to help growers meet the challenges of feeding a growing world population. "We believe that the production that we have to have to feed the world is so important," says Solberg. "The way that you go about it is through good, sustainable, environmentally-sound practices which allow us to farm with freedom, to do it in the right way, and to make sure that we get the yields to feed all the people we've got coming at us in the next 30 years."
Listen to my interview with Jeff Solberg here, where he also talks about the International Year of the Cooperative and GROWMARK's big anniversary this year: [wpaudio url="http://zimmcomm.biz/growmark/pomy-il-jeff.mp3″ text="GROWMARK CEO Jeff Solberg"]
Instead of taking a bird's eye view, one-size-fits-all approach, the POMY program works with individual farmers to find out what works best in their own operations. "That's been a very exciting concept," said Spradlin. "Our crop specialists, which number between 400-500 throughout our system, have really embraced the idea of seeing what we can do on farmer fields, answering farmer questions."
Spradlin says the growth in the system has been tremendous since it began just three years ago, starting with just about 200 trials to over 600 in 2011.
Listen to my interview with Jim Spradlin here: [wpaudio url="http://zimmcomm.biz/growmark/pomy-il-jim.mp3″ text="Jim Spradlin Interview"]

Photos from Illinois Pursuit of Maximum Yields Event

Photos from Iowa Pursuit of Maximum Yields Event