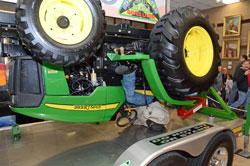 The Kentucky Department of Agriculture's Division of Ag Education, Farm Safety and Farmland Preservation has teamed up with several organizations to promote farm safety to National Farm Machinery Show attendees this week. As you can see in the photo, they have a tractor rollover educational display to show the difference in a rollover with the ROPS bar up and down. In the photo this farmer "dummy" is the victim of the unsafe practice of not using the ROPS bar.
Dale Dobson, Safety Administrator for the Department, and Scott Cedarquist, Director of Standards & Technical Activities, American Society of Agricultural and Biological Engineers (ASABE), were working the exhibit at NFMS to provide a very visual farm safety message.
Dale says the message is pretty simple – "Roll bars and seat belts work only if you put the roll bar up and you click the seat belt. It's your choice. It's life and death." Scott says that ASABE has a major focus on safety as the standards setting organization and they have committees for specific safety components like lighting and marking.
Listen to an interview with both Dale and Scott here: [wpaudio url="http://zimmcomm.biz/nfms/nfms-12-safety.mp3″ text="Promoting Farm Safety Interview"]
2012 National Farm Machinery Show Photo Album
Coverage of the National Farm Machinery Show is sponsored by Ag Leader Technology