University of Illinois Professor of Plant Physiology Dr. Fred Below is always excited to point out to growers how seven factors work together for high yield corn – weather, nitrogen, hybrid, previous crop, plant population, tillage and growth regulators.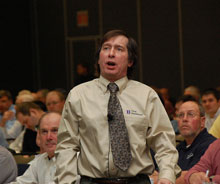 Dr. Below talked about his seven wonders of corn yield research at both the Iowa and Illinois Pursuit of Maximum Yields (POMY) events organized by FS Green Plan Solutions. He says of the seven factors, only one is really beyond the control of growers. "The largest factor affecting corn yield is obviously the weather," he said, adding that his research has assigned a value of 70+ the impact of weather on bushels per acre.
On the other hand, Below says good fertilizer nitrogen management can have almost as much impact as weather and it's the one that farmers have the most control over. "70 bushels is the current average for getting it just right," he said.
For much of the Corn Belt, 2011 was one of those bad years for weather, but we still saw some good yields. "The weather worked against us in 2011 and we were geared up to grow 300 bushels right out of the ground. It looked pretty good," he said. "If our management had not made yield by the third week of June, we were pretty well done." Still, over at his research plots in Illinois, Below says they managed to get better yields with high tech management. "Even under those poor conditions, by managing from the very beginning and planning for high yields, we managed to eke out an extra 26 bushels in a bad year," he said.
Dr. Below has been researching how to get higher corn yields for a couple of years now and even has a website about the "7 Wonders of Corn" and this coming year is will be doing some complementary research on soybeans. With no nitrogen component to soybeans, there will only be six wonders for soybean success.
Listen to my interview with Dr. Below here: [wpaudio url="http://zimmcomm.biz/growmark/pomy-12-below.mp3″ text="Dr. Fred Below Interview"]