"You may not be interested in global macroeconomics, but it's interested in you."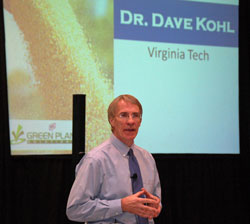 That is one of the main messages that Virginia Tech economist Dr. David Kohl had for growers attending the FS Green Plan Solutions Pursuit of Maximum Yields event in Collinsville, Illinois today.
Dr. Kohl talked about the importance of the BRICS nations (Brazil, Russia, India, China and South Africa) to U.S. agriculture. "You have an agriculture economy that is doing extremely well because they're connected with the BRICS nations that are demanding food, fiber and fuel," he said. "It's important to keep an eye on those BRICS nations more than just the U.S. economy in developing your agricultural plans."
Dr. Kohl says U.S. agriculture has been in a "super cycle" for nine years, which is unprecedented, and the two main reasons are exports and ethanol. He also talked about "black swans," mega trends, top challenges, and the connectivity of agriculture.
My favorite quote from his talk is "The best crop you can raise is your children."
Listen to my interview with Dr. Kohl here: [wpaudio url="http://zimmcomm.biz/growmark/pomy-il-kohl.mp3″ text="Dr. Dave Kohl Interview"]
Photos from Illinois Pursuit of Maximum Yields Event