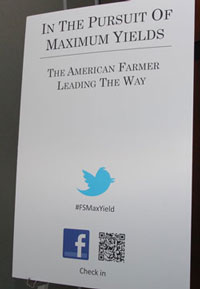 The hashtag #FSMaxYield was everywhere at the Pursuit of Maximum Yields event last week in Bettendorf, Iowa encouraging people at the event to "be part of the buzz."
"We're excited to have a hashtag at the event," said GROWMARK Electronic Communications Specialist Heather (Miller) Thompson. "We've given every grower and crop specialist a little card about how to tweet from the event and if they don't have a Twitter account, how to create one."
Heather says the FS Green Plan Solutions crop specialists are finding Twitter to be a quick and easy communications tool to get information out to growers and they are seeing more and more adopt it every day.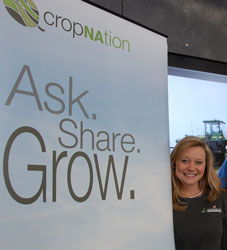 She and the rest of the GROWMARK communications team were also actively promoting CropNAtion, which is a social site introduced last year for farmers and ranchers to ask questions, share information and photos, and grow connections with others in the ag industry. "That's still really in it's infancy," Heather said. "We're trying to get word spread about it to get a base and also waiting for an iPhone and Android app that should be out any day now."
GROWMARK and FS are also making good use of other social media and smartphone tools, like Facebook and QR codes.
Listen to Heather talk about it here: [wpaudio url="http://zimmcomm.biz/growmark/pomy-ia-heather.mp3″ text="Heather Thompson Interview"]
Photos from Iowa Pursuit of Maximum Yields Event