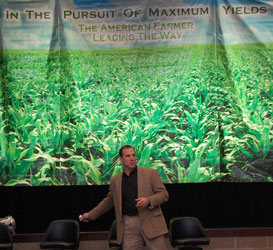 GROWMARK Manager of Agronomy Services Dr. Howard Brown may have started the FS Green Plan Solutions Pursuit of Maximum Yields (POMY) program, but he doesn't like to call it "his baby" – he gives all the credit to MOM.
"It's all about MOM," Brown said at the POMY event Thursday in Bettendorf, Iowa. "It's about Maximizing yield, Optimizing nitrogen utilization and Minimizing environmental impact."
This is the third year for the program and the second year that they have gotten growers together to share the knowledge the program is helping to generate. Last year they held one grower meeting in Peoria. This year there are two meetings – the Iowa meeting last week and another one coming up in Belleville, Illinois on Tuesday. Between the two, they expect to reach at least 500 farmers with an educational and entertaining program that includes great speakers like Dr. Fred Below with the University of Illinois and growers who have participated in the program.
Brown is pleased with how quickly the on-farm discovery program has caught on with growers. "It has grown very fast in a large area," he said, noting that he just made presentations about the program in Ohio where farmers are anxious to participate. "A lot of them have already been doing it, they just never formalized that approach and we're going to offer that to them."
Listen to my interview with Howard Brown here: [wpaudio url="http://zimmcomm.biz/growmark/pomy-ia-howard.mp3″ text="Dr. Howard Brown Interview"]
Photos from Iowa Pursuit of Maximum Yields Event