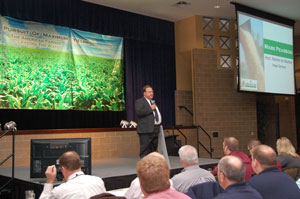 A familiar face to Iowa growers was the host for the Pursuit of Maximum Yields event organized by FS Green Plan Solutions Thursday in Bettendorf, Iowa.
Mark Pearson is long-time host of the Iowa Public Television program "Market to Market", as well as being a farmer himself, and he was thrilled to be part of the event and excited about the whole Pursuit of Maximum Yields concept. "The exciting part of what FS is doing is instead of offering a product, they're offering a system," he said. "And I think that's going to be more of a template for agribusiness, being more of a partner."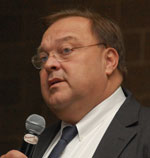 Pearson says the whole point of working toward maximum yields for corn growers is meeting that growing demand. "We've got a growing world middle class, we've got growing or at least stable demand for ethanol, we've got a product that's in big demand overseas," he said. "It's exciting what GROWMARK and FS Services are doing because we need the production."
Pearson says he is proud of the way farmers can get together in a forum like this to help each other do a better job of feeding the world. "Because good farmers are more than willing to share what they're doing and hear what you're doing," he said.
Listen to my interview with Mark Pearson here: [wpaudio url="http://zimmcomm.biz/growmark/pomy-ia-mark.mp3″ text="Mark Pearson Interview"]
Photos from Iowa Pursuit of Maximum Yields Event