In a world where crop yields need to continue growing to keep up with the ever-increasing demand for food, what can farmers do to manage and protect the environmental resources that will support those higher yields?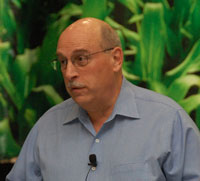 That was one of the main questions that Delaware-Maryland Agribusiness Association Executive Secretary Bill Angstadt addressed at the Pursuit of Maximum Yields event organized by FS Green Plan Solutions in Bettendorf, Iowa Thursday. He noted several examples of pressures being placed on growers to produce more with less. "There are several initiatives, one called "Food to Market," where food companies like Coca-Cola, General Mills, Walmart have come together," he said. "What Coca-Cola originally wanted was to be able to put a label on their bottle that says 'the corn syrup that was used in making this product did not harm the environment.' Those kinds of concepts are out there."
Angstadt also discussed the Chesapeake Bay Total Maximum Daily Limit (TMDL) requirement by EPA in his area of the country that would limit nitrogen and phosphorus used in the region. "This public policy of trying to established when and how to quantify that a farmer is meeting water quality standards and how can a farmer verify this as an assurance to EPA is the debate that we're in right now," he said. The proposal is currently facing a legal challenge by the American Farm Bureau Federation.
Listen to my interview with Bill Angstadt here: [wpaudio url="http://zimmcomm.biz/growmark/pomy-ia-angstadt.mp3″ text="Bill Angstadt Interview"]
Photos from Iowa Pursuit of Maximum Yields Event