South Dakota State University (SDSU) Extension's 13th annual Precision Ag Conference is set for Feb. 22 in Aberdeen S.D.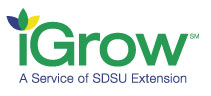 The one-day event is designed to provide producers with the latest in precision ag research, technology, equipment and information through presentations and a trade show.
The program will include presentations on Making 'Cents' out of Yield Data, Mapping and Interpreting Yield Maps, Precision Ag – Machinery Innovations for the Future, Ag Information Systems of the Future, The Miracle of Modern Agriculture. Concurrent sessions will feature industry updates from a number of companies including Ag Leader Technologies, Raven Applied Technologies, and John Deere/RDO Equipment.
The conference opens at 7:30 a.m. at the Best Western Ramkota Inn with registration and coffee and presentations will begin at 9:00.
Pre-registration cost for the event is $20 before Feb.15. The cost at the door is $25 per person. For more information contact Mark Rosenberg at the SDSU Aberdeen Regional Extension Center – mark.rosenberg@sdstate.edu.