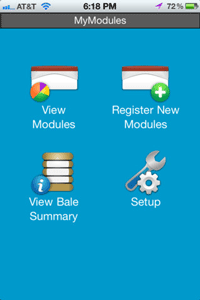 At the Beltwide Cotton Conferences I met Joe Wyrick, President, EWR, Inc. His company has a division called eCotton which "is dedicated to supplying the information processing needs of the cotton industry." One of the new ways they're doing that is with a brand new smartphone app called MyModules.

Cotton producers can register new cotton modules and have them transmitted to the gin automatically, with GPS coordinates if you like.
View the status of all of your modules.
View summary status of all of your bales.

This caught my attention since it is available for the iPhone and Android platforms. Joe gave me a demonstration on his iPhone.
Joe says the app electronically solves the problem of getting harvested cotton module data from the grower to the gin. It's a two way flow so the grower also gets information back from the gin. A helpful feature is that the app captures data for later transmission if there is no local mobile carrier signal. That's pretty handy.
Learn more about this new ag app in my interview with Joe here: [wpaudio url="http://zimmcomm.biz/cotton/beltwide-12-wyrick.mp3″ text="Interview with Joe Wyrick"]