Wild weather was the winner for the biggest ag story of 2011 according to our latest ZimmPoll. We asked the question, "What do you think is biggest ag story of 2011?" Wild weather got 40% or the response followed by Record farm land value – 17%; New free trade agreements – 16%; High commodity prices – 16%; Super committee "no"- farm bill – 11% and Record U.S. farm exports at a big fat 0%. Weather, it's always on the top of a farmer's mind and with good reason.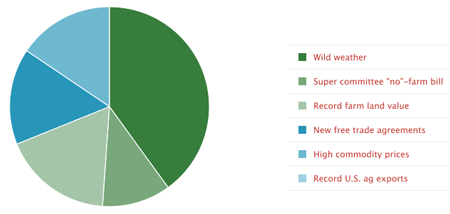 Our new ZimmPoll is now live. We're asking the question, "What do you think of the LightSquared broadband internet proposal?" This is certainly a hotly debated topic with GPS companies and users very concerned over the implications. If you need more information about it you can find lots of resources online here, here and here.
ZimmPoll is sponsored by Rhea+Kaiser, a full-service advertising/public relations agency.