The use of fungicides for overall plant health has been a new growth area for agriculture in recent years. As that occurs, farmers and crop consultants continue to find out more about best times to apply and best ways to use them during the season.

"There was a time not that long ago, when to consider applying a fungicide post-emergence to corn or soybeans was almost unheard of," said GROWMARK Insect/Plant Disease Technical Manager Kevin Black who notes that the strobilurin class of fungicides have been game changers. "Because they not only have activity against fungi but also seem to have some growth regulation effects, we've seen some remarkable results in the field."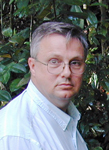 Speaking very generally, Black says they have found that about two-thirds of the benefit from fungicides comes from a VT application and about one-third from a V5 application. "The VT or R1 timing of application typically is much more consistent in providing returns," he said.
Black says university research and on-farm discovery work continues to look at new ways to use fungicides in combination with insecticides and micro-nutrients in tank mixes, but he believes it's important to be sure there is a solid benefit before doing so. "If we start to get to the point where we're just mixing up these soups and saying 'there's got to be something in there that's good' then I have to part company," said Black.
Listen to my conversation with Kevin Black here: [wpaudio url="http://zimmcomm.biz/growmark/gmk-kevin.mp3″ text="Kevin Black Interview"]