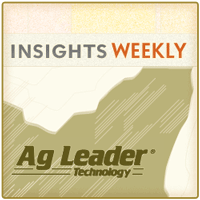 Choosing how much nitrogen (N) to put on corn fields isn't something farmers take lightly. Many factors go into the decision, including past experiences, the timing of application, yield goals, and results from soil tests.
That's where crop sensor products such as OptRX from Ag Leader can help. When the OptRx sensors detect healthy plants, the system will call for less N to be applied. When the OptRx sensors see plants that need some help, the system will recommend more N. According to more than 50 on-farm demonstration projects conducted in Missouri from 2004 to 2008, crop sensors can select N rates for corn that outperform those chosen by farmers. Data from the study shows that sensor-selected rates increased yield by almost 2 bushels per acre, on average, while reducing by 25% the amount of excess N that was applied to fields but not removed in grain. (Read the full abstract study here.)
As concerns about N pollution continue to increase, products such as OptRX offer a way to more efficiently apply fertilizer without hurting yield or profits.
Ag Leader helps answer your questions about variable rate N application here.
Become a fan of Ag Leader on Facebook today, and get the latest precision ag videos on the YouTube channel. For more information about Ag Leader products and services, or to visit the blog site, go to www.agleader.com.