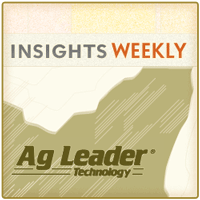 Think about all the insurance options you have: home, auto, life. You're protecting your investment, your family and your way of life. How many people have insurance? Millions. Now, how many people use precision ag equipment and are you one of them? The choice should be clear when it comes to purchasing precision ag to protect your seed investment just as you do with insurance for other things in life. Think of precision ag as an insurance policy for the future of your farm operation.
Here are three reasons why Ag Leader Technology feels it's important to invest in precision ag equipment:
1. The first reason that precision ag is important is to protect your annual investment, whether you farm 500 acres or 5,000. We all know we can't control Mother Nature and in years of extreme drought or flood or any other "natural" disaster, crop insurance companies are going to need data…data collected by precision ag equipment, such as the Ag Leader INTEGRA or VERSA display, to verify acres planted. Combined with the SMS™ software, providing the necessary information to satisfy government reporting needs is easy. Find out more here.
Without precision ag, you have to rely on your paper trail of seed receipts to show what you'd invested in that field. In this case, precision ag can save you time, headache and money.
2. The second reason is it protects your farm from over-spending on crop inputs. Application of fertilizer and pesticides shouldn't be a guessing game. There are many precision ag products on the market – DirectCommand™ and OptRX™ crop sensors are two examples — that help you apply exactly the right amount in exactly the right place, saving you on input costs and helping you be a better steward of the land. After all, farmers are the world's best environmentalists, right?
3. When considering precision ag equipment, it comes down to dollars and cents. And as farmers are faced with feeding the world, and an ever-increasing population, they must do more with less. That doesn't mean you need to be bigger, that just means you need to be more efficient.
So contact your Ag Leader dealer for more information and start protecting your investment today!
Become a fan of Ag Leader on Facebook today, and get the latest precision ag videos on the YouTube channel. For more information about Ag Leader products and services, or to visit the blog site, go to www.agleader.com.