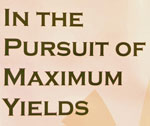 We already got an update on the Pursuit of Maximum Yields (POMY) project in Ontario – now we hear from Central Illinois.
Jerry Harbour, an agronomist and certified crop specialist with Lincoln Land FS in Illiopolis, says the objective of POMY is to get consistent 300 bushel yields on corn and 100 bushel beans. "We do a lot of corn on corn so that's another challenge here in central Illinois to get consistently high yields as we grow into continuous corn acres," he said.
Jerry says when it comes to gathering information, they are using lots more precision farming techniques. "Trying to be more accurate and knowing what we're doing, instead of flags and pens and paper, we're trying to document with GPS as well," he said.
Nitrogen application is a big focus of the POMY trials and this year trials came out very well. "I had about six different trials and they all turned out very positive," he said. "We did a lot of work this year with impregnated urea for a side dress application for corn – and all of those showed a profit. It seemed like everything we did with nitrogen this year was a win for the grower. Worst case was that they broke even in a couple of cases."
Jerry says he is blessed with some very progressive farmers in his area who are willing to take some risks to improve their yields and share their knowledge with other growers. Results of this year's POMY trials will be presented to growers at meetings in February.
Listen to or download my interview with Jerry here: [wpaudio url="http://zimmcomm.biz/growmark/gmk-pomy-harbour.mp3″ text="Jerry Harbour Interview"]