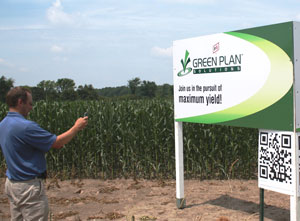 Harvest is just about complete in Ontario and so is the second year in the FS Green Plan Solutions Pursuit of Maximum Yields (POMY) project for that region.
I spoke with Don McLean, agronomist for FS PARTNERS and North Wellington Cooperative, about how the trials went this year. "Last year and this year both we had yield increases," Don said. "This year, we'll be right around a 30 bushel yield increase on corn, last year we were around 28 bushels, so we are increasing growers' yields very well." Average yield for the six POMY sites in the Ontario region was "just shy" of 200 bushels an acre.
Pursuit of Maximum Yields takes a systems approach to farming, considering all possible elements that can affect yield, such as hybrids, nitrogen, tillage and plant populations. Don says they held grower events on site over the summer to explain the goals of the program and the factors they consider. "We talked about nitrogen as a system and how we can best utilize nitrogen," he said. "We also looked at what we call 'setting the table' – cultural practices from planting and tillage." They also talked about new corn traits, new innovations in energy, fungicides and early weed control.
For those growers who might not have been able to make it to one of the events, Don says they had a new technological tool for anyone who wanted more information about a site to utilize – QR codes on signage at the site. "We had really good feedback on that," he said. "We had five sites with the QR codes on and we had 414 hits – so we think for the first year that was very successful."
Don adds that the growers who are hosting the sites are very pleased with being involved because they see the great need to increase yields for the future.
Listen to or download my interview with Don here: [wpaudio url="http://zimmcomm.biz/growmark/gmk-pomy-mclean.mp3″ text="Don McLean Interview"]