John Deere has become the first U.S. company in seven years to win the Swedish International Steel Prize.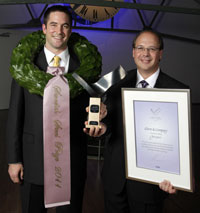 Instituted in 1999 by steel supplier SSAB Americas' parent company in Sweden, the award is often referred to as the "Nobel Prize" of the steel industry. The award includes a statuette and a cash prize of $15,000 for the winner. John Deere's Design Engineer Kent Brown and Senior Engineer Corwin Puryk (pictured) accepted the award on behalf of the company at the Swedish Steel Prize 2011 award ceremony on November 17.
"We're extremely pleased to be the winners of Swedish Steel Prize 2011. John Deere will donate the prize money to FIRST, an organization aimed at encouraging an interest in innovation and technology among children and young people. FIRST programs show innovators of the future how creativity combined with science and technology can resolve real engineering problems," said Puryk.
Brown added, "Innovation is one of John Deere's four core values and we wish to inspire and help the next generation of innovators to grow. One day, perhaps some youngster who attended a FIRST program will contribute to a company winning the Swedish Steel Prize."
Deere was chosen for the award specifically for the new S-series combines, which allow for greater harvesting efficiency while meeting stringent engine emission requirements. The company's goal for these harvesting applications was to find a material that would reduce mass and retain strength. The weight of targeted steel parts in the S-series was reduced by 50 percent and the new design has helped to reduce the amount of welding by almost 70 percent.