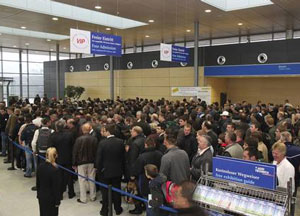 More than 415,000 visitors are reported to have attended Agritechnica 2011 last week in Hanover, Germany, the huge international agricultural show held every two years and organized by DLG – the German Agricultural Society. That's a giant leap from the 350,000 visitors who attended the previous show in 2009.
"Agritechnica 2011 has impressively demonstrated the global importance of agriculture and agricultural machinery and equipment. With over 2,700 exhibitors and some 415,000 visitors, of whom 100,000 came from outside Germany, a new dimension has been achieved," said Dr. Reinhard Grandke, DLG Chief Executive Officer at the close of the event on November 19. He added that this result confirmed Agritechnica's leading role as global forum for the agricultural machinery and equipment industry.
The next Agritechnica will be held at the Exhibition Grounds in Hanover from 12 to 16 November 2013.