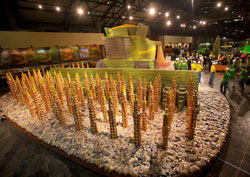 On Thursday John Deere finished and revealed the sculpture for Project "Can Do" – which is being considered now for inclusion in the Guinness Book of World Records.
This farm scene with an S-Series combine harvesting a field of corn required approximately 323,000 cans of food to complete. The finalized sculpture is now on display at the John Deere Pavilion. When it is taken down, all those cans will be donated to charity.
Katie Dierker, Division Marketing Manager for the S-Series combines, says the right model S-Series combine can harvest enough wheat in a day to make 1 million loaves of bread, or it can go through the equivalent of 30 football fields of corn in an hour or 350 acres per day.
Learn more about the project in an interview with Katie here: [wpaudio url="http://zimmcomm.biz/john-deere/jd-can-do-katie-dierker.mp3″ text="Interview with Katie Dierker"]
Here's a cool time lapse video of the sculpture being built.