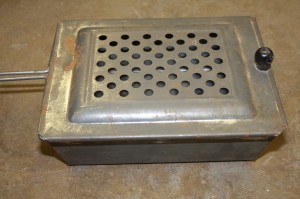 Our son is hooked on microwave popcorn. Or any kind of popcorn for that matter since we have an air popper, too. He knows when it's movie night, it's popcorn night. A 1:45 'bout in the microwave and he's happy as can be.
This is a photo of an old-time popcorn popper. They used to put the kernels in with a little oil and pop it on a wood-fired kitchen stove. As you can see, this popper didn't hold as much as a bag of popcorn does now-a-days, and it probably took longer than 1:45. If you really wanted popcorn, you had to work for it.
Being from Nebraska, I have to give a "shout out" because Nebraska can hang its hat on knowing that the state ranks first in acres of popcorn planted and total popcorn production with Indiana as a close second (which is a little-known agricultural fact about Nebraska).
I feel better knowing that by eating popcorn, I'm supporting Nebraska producers who grow it. Thank you!
Until our next history lesson …