Agritechnica 2011 is underway in Hanover, Germany with more exhibitors than ever.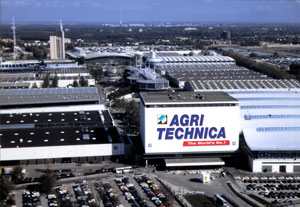 More than 2,700 exhibitors from 48 countries are at the huge international agricultural show, which is held every two years and organized by DLG – the German Agricultural Society.
The official total is 2,748 companies presenting a vast array of agricultural machinery and equipment – that's up a whopping 17 percent compared with the last event in 2009. The largest number of exhibitors come from Italy with 322 companies, followed by the Netherlands with 112, France at 92, China at 82, Austria with 76, Turkey has 72, Denmark 59, and the USA with 54.
In addition to the record number of exhibitors, Dr. Reinhard Grandke, Chief Executive Officer of the DLG, says they also expect attendance to top 2009 with its roughly 350,000 visitors. "Agriculture is "in" throughout the world," says Grandke. "World demand for agricultural commodities is increasing steadily. This development has led to new self-confidence throughout the agricultural sector."
Agritechnica is also catering to the younger generation, with a separate information program addressing European young farmers and students featuring international panel discussions and job forums. Some 3500 are anticipated to attend the "Young Farmers Party" on Thursday evening.
Agritechnica 2011 runs through Saturday.