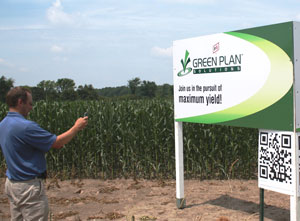 Let's say you're driving down the road and you see an obvious test plot with some pretty darn good looking corn and you want to know why it looks so much better than yours. Chances are you never really have gotten the answer to what varieties or practices the grower might be testing that you could try yourself.
What if you could just whip out your smartphone and scan a code that can provide you that information? Well, that is just what FS PARTNERS has developed for customers to access up-to-date information about Pursuit of Maximum Yield corn and soybean plots through the use of QR codes.
"A QR code is a 'quick response' code," said Juli Paladino, FS PARTNERS retail energy administrator in Ontario, who helped develop the use of this communications technology for the program. "So, you're at a Pursuit of Maximum Yield site, you're going to scan it and it's going to take you right to information on our field trials." That includes seed information, treatments, planting dates and even audio updates tailored specifically to that particular site.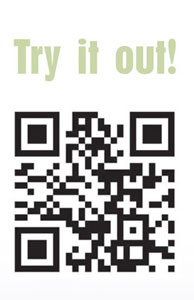 As smartphones become more prevalent, people are becoming more familiar with using QR codes to get information, but Juli says they have actually been around for a while. "Originally they were developed in 1994 by Toyota in Japan to track parts," she said. "It's been a very commonplace technology in Japan and Asia."
While consumers in the United States has been slower to adopt the use of QR codes, Juli says farmers are quicker to pick up on new technology. "Farmers are at a higher rate than the general public to be adopting mobile phone technology. They've got the smart phone and they're ready to use it."
FS PARTNERS used the QR codes at plots in Ontario this year and Juli expects to see more widespread use of the technology at the Pursuit of Maximum Yield plots in the Corn Belt next year. The Pursuit of Maximum Yield is an FS Green Plan Solutions on-farm discovery program geared toward increasing yield per acre to meet the demands of a growing world population.
Listen to or download my interview with Juli here: [wpaudio url="http://zimmcomm.biz/growmark/gmk-agw-paladino.mp3″ text="Juli Paladino Interview"]