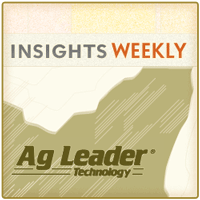 Twenty years ago, Al Myers, founder of Ag Leader Technology, began manufacturing the Yield Monitor 2000, a revolutionary on-the-go yield monitoring system. Little did he know that today, the yield monitor would be the centerpiece of the precision farming practice and the Yield Monitor 2000 would become the benchmark to which all other manufacturers attempt to match.
In its first year Myers sold 10 yield monitors to farmers within 80 miles of Ames, Iowa, and in eastern Illinois near his father's farm. Today, Ag Leader provides yield monitoring for nearly all combines made in the last 20 years, all across the United States and overseas.
So what does this technology means to you? More accurate yield data, on-the-go yield comparisons, and the ability to use the data to make better seed selections the next year. And those are just the highlights.
Yield monitoring today is done through the INTEGRA display. The display also features built-in manual guidance, full-screen mapping, planter and application control, yield monitoring, real-time data logging and automated steering. It's a complete year-round solution. Click here for a list of tutorials on INTEGRA functionality and capabilities.
Seamless Transitions
In the true sense of "plug-and-play" fashion, the INTEGRA display can be moved from vehicle to vehicle to save you both time and money. So at the end of the day, what began in Al Myers' basement has now become the cornerstone to any precision ag application. Be sure to contact your Ag Leader dealer for more information.
Become a fan of Ag Leader on Facebook today, and get the latest precision ag videos on the YouTube channel. For more information about Ag Leader products and services, or to visit the blog site, go to www.agleader.com.