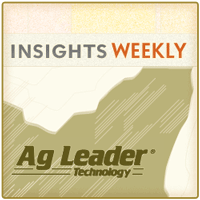 Uses for precision ag vary from west to east coast, state to state and even from field to field. And farmers can oftentimes learn from growers in other regions, take pieces and parts from those experiences and implement it on their own operation to see what fits best.
Today, we're talking with Mike Houghtaling, owner/president of PC Ag Solutions in Saginaw, Mich., about his experience with a sugarbeet grower.
Q: Tell me about how growers in your area are creating zones for sugar beets based on the current crop's vigor. Why is this beneficial to growers and how are they utilizing new technology to do this?
A: Sugarbeets are a very high value crop and are very sensitive to nitrogen: too much causes a reduction in quality and price; not enough can result in lower yields. As such, there have been many years of research to determine the optimum nitrogen rate. While most of that research has been beneficial to point us to an average optimum rate, nothing much has been done on a site-specific basis. We look at fields here that have several soil types. Our goal was to improve upon the current baselines we have for nitrogen recommendations here in Michigan. We are trying to keep it fairly simple at this time…walk before we run.
We have been collecting Vegetative Index (VI ) data at the day of harvest with our defoliator tractor. This data has proven there are large spatial variations in the leaf canopy of the beets, and that we can loosely correlate them to yield. We also collect yield maps at harvest on the digger. Generally the lower the VI the lower the yield. Very high VI does not necessarily correlate to high yield however, but does generally indicate poor quality. Since sugarbeets are generally grown on a 4-year rotation, and we are collecting the data at harvest, our project is long-term. We want to collect that data now, in the hopes that we can make better decisions about where we apply nitrogen and how much we apply in the future. Our other goal is to correlate corn VI (collected at sidedress) to sugarbeet VI (collected at harvest).
Q: You have experience using Ag Leader's OptRx™ crop sensors for corn and wheat nitrogen application. What kind of results have you seen here?
A: We ran OptRx sensors on corn and wheat for two seasons, and collected VI in sugarbeets and soybeans. We are pretty excited about the data we are collecting, enabling better management decisions.
It wasn't a homerun, but was worthwhile since we already have the sensors for corn. We also let several other producers run the sensors in wheat, and they all seemed happy with the performance. One comment was that it "made more sense this year". Lodged wheat is a continual problem here. We generally have very high yields of SWW (100-120) and growers need to put a lot of nitrogen on to reach those goals. OptRx will help sort out those areas for the grower.
Q: What other different and new ways have growers been utilizing precision ag? What led them to try new practices – were the "old" ways not working? Have crop conditions changed? What facilitated the need to try new methods?
A: Growers are always trying new things and the problem comes when the old way is not competitive any longer. Growers are sometimes being forced – economically – to use the technology. They can't afford not to.
Q: Generally speaking, why do you recommend precision ag products to growers? What are the benefits and return on investment?
A: Our top three recommendations in the order of fastest payback are Ag Leader's SureStop™planter clutches, ParaDyme™ automated steering and OptRx crop sensors.
Become a fan of Ag Leader on Facebook today, and get the latest precision ag videos on the YouTube channel. For more information about Ag Leader products and services, or to visit the blog site, go to www.agleader.com.