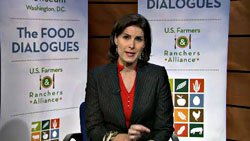 The U.S. Farmers & Ranchers Alliance, Food Dialogues, is now live for your viewing pleasure. You can watch live on the Food Dialogues website or by using the Food Dialogues app on Facebook. That's where I'm watching.
You can interact by signing in and post your comments and questions. This is what USFRA is looking for and hoping there will be a lot of participation.
Post Update: The Food Dialogues program has ended. If you missed the conversation you can still check the tweet stream with the #FoodD hashtag and it's my understanding that there will be video in it's entirety available on the Food Dialogues website.