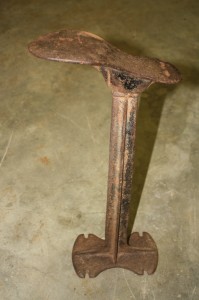 I have a number of idiosyncrasies. One is cleaning up while I cook. When mom and I were in the kitchen together, she'd turn to me and ask, "Where is that spoon I was using?", and the answer was always, "In the dishwasher." (Where else would it be – it was dirty!)
Another might be hanging up shirts in the closet a certain direction. That one I get from my husband.
Another habit of mine is keeping shoes long past their expiration date. When we moved to a new house in Denver, I counted pairs of shoes as I stashed them in trash bags and it was somewhere around 76, not counting flip flops (those aren't really shoes in my book). Some of them had loose soles or were worn down so low if I would've stepped on a nail I would've been making a trip to the doc for another tetanus shot.
I resigned myself to the fact that they weren't even donation material and threw them out. It was heart-breaking.
I quickly recovered with a few sessions on Zappos.
This is an antique cast iron shoe last, used by cobblers for fixing and re-soling shoes. Hey, if I would've had this, maybe I could've gotten another two years out of those shoes!
Until our next history lesson …