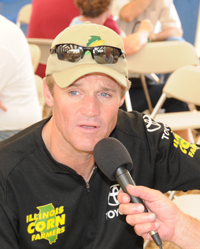 There were quite a few race cars mixed in with the tractors and combines this year at the 2011 Farm Progress Show in Decatur, Illinois.
In addition to the American Ethanol NASCAR Sprint Series car at the Growth Energy exhibit, over at the Illinois Corn Growers exhibit, the Illinois Family Farmers NASCAR Nationwide Series driver Kenny Wallace was signing autographs and doing interviews. Kenny said he was "blown away" by the Farm Progress Show. "This is like our Daytona 500! I've never seen anything like it," he said in an interview with Chuck Zimmerman.
Kenny visited with lots of farmers during the three day show who made him feel very happy to be the Family Farmer American Ethanol spokesperson. "Farmers make me feel good," he said. "They say thank you so much for putting up for us and that really humbles me," he added.
Listen to Kenny's interview here. [wpaudio url="http://zimmcomm.biz/farm-progress/fps11-wallace.mp3″ text="NASCAR driver Kenny Wallace"]
2011 Farm Progress Show Photo Album
Precision.AgWired.com Coverage of the Farm Progress Show is sponsored by John Deere FS GreenPlan Solutions AgLeader