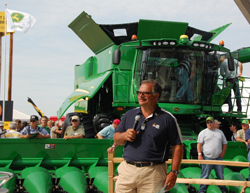 Dealers and the media got to see the most significant product launch in the 174 year history of the company last week – the farming public got to see it for the first time Tuesday at the opening of the 2011 Farm Progress Show in Decatur, IL.
Max Armstrong, Farm Progress Director of Broadcasting, emceed the event at the John Deere exhibit, which drew a huge crowd eager to find out what was hiding under the black tarps. First to be unveiled was the new S-Series combines, which we previewed on AgWired last week.
The S-Series includes five models: S550, S660, S670, S680 – and the one that was unveiled, the S690, which is an all-new Class 9 machine.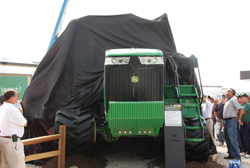 Next to come out for the fans was a sample of the new R-Series tractors, the 9560RT. The 9R/9RT Series is a complete lineup of 4WD and Tracked tractors designed to increase more productivity, power and efficiency. An overview of all the R-Series tractors can be found on AgWired.
John Deere also showcased Machine Sync and the newer, faster Gators. We have lots of photos in the John Deere FPS photo album and we will be bringing you video and audio interviews about the new products in the days to come, so stay tuned!

John Deere Farm Progress Show Unveiling Photos
Precision.AgWired.com Coverage of the Farm Progress Show is sponsored by John Deere FS GreenPlan Solutions AgLeader