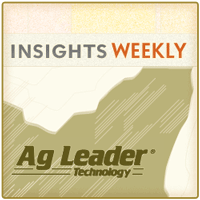 Last week, we discussed some of the obstacles farmers face when it comes to adopting precision agriculture on their farm. When farmers are asked what's stopping them from buying precision ag equipment, their first reaction is cost: the investment cost of the equipment, the time involved for them to learn how to use the equipment, and the time it will take to see their return on investment.
So we wanted to explore that obstacle further in today's post by talking with an Ag Leader dealer, someone who hears those concerns on a daily basis and knows the insides and outs of modern farming technologies and what's right for growers.
Bob Scott, Ag Leader dealer with Basin Fertilizer in Oregon, says precision ag equipment can really boost an operator's skill level.
And when it comes to overcoming the obstacle of time involved when learning how to use the equipment, Scott says he provides training for his customers at no cost for the first year, and he's always available to help a grower use the new equipment. And, Ag Leader Tech Support is available at 515.232.5363 to provide support, troubleshooting and guidance.
Scott says the bulk of his sales are in the third quarter of the year and then again in the first quarter prior to planting. That's when the majority of growers decide to jump into the precision ag arena. He explains how he communicates to growers who may be considering precision ag options.
Again, talk to your Ag Leader dealer today about what's right for you. They offer the complete package of precision farming tools, allowing you to get started with technology based on your comfort level and your needs.
Become a fan of Ag Leader on Facebook today, and get the latest precision ag videos on the YouTube channel. For more information about Ag Leader products and services, or to visit the blog site, go to www.agleader.com.