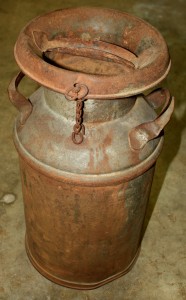 I've seen them used as decorations on the front porch, or as bar stools in the shop, or flower planters … but in the early days, these cream cans were actually used for agricultural purposes. It's just that – a 5-gallon cream can that folks used to set at the end of the driveway and once a week, a truck would come pick them up to take them to the creamery where butter and cheese were made.
The cream would rise to the top of the can during its fateful ride and any spill or leak from the can was costly to the farmer.
Some reports I've read say the first bulk storage tanks came into existence in the late 1930s.
Either way, I can't imagine setting a can of milk at the end of my driveway in the 110-degree heat we've been having.
Until our next history lesson …