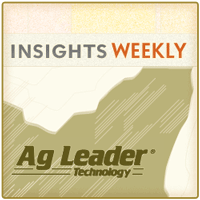 Let's bring you up to speed as we recently left off learning about the history of Ag Leader Technology when the company had just gone mobile in 2006.
The very next year, Ag Leader partners with NORAC, Inc. to provide the InSight™ display interface to the NORAC UC5™ Spray Height Controller. Then, partners with KINZE Manufacturing, Inc. to develop new planting technology that improves the precision and control of row crop planters. Lightbars go color; Planter monitoring functionality is added to Ag Leader's SeedCommand system; a precision ag lab is added within the Department of Agricultural and Biosystems Engineering at Iowa State University; and, DirectCommand system now offers direct control for granular and liquid products.
In 2008, the company introduces the EZ-Guide 250, breaks ground on a building expansion at its current facility in Ames, Iowa; becomes the exclusive distributor for Holland Scientific's second-generation active light reflectance sensor products; establishes the Ag Leader Technology Precision Agriculture Scholarship within the Department of Agricultural and Biosystems Engineering at Iowa State University; and, reveals a new entry-level, year-round precision farming display for those just getting started with precision technology — the EDGE™ display.
Realizing that partnerships are integral to business strength and sustainability, in 2009 Ag Leader forms an alliance with AutoFarm to bring together the highly popular and successful precision ag products of Ag Leader with the latest embedded and integrated steering solutions from AutoFarm.
Also in 2009, Ag Leader introduces an advanced automated steering system by unveiling ParaDyme®; the company releases OptRx, a crop sensor used for mapping and data collection as well as real-time variable rate application of agrochemicals, specifically nitrogen; Ag Leader reveals OnTrac2™ and the L160 CAN bus Lightbar.
Just last year, the Blue Delta Dealer network was launched, introducing a group of elite precision farming dealers; SureVac™ electric row shutoffs are added to the Ag Leader lineup of planter section shutoff devices; a new "drive and guide" guidance pattern – SmartPath™ – was introduced; the GPS 2500 all-in-one antenna and GNSS Receiver was released; and, Advanced Seed Monitoring functionality was added to Ag Leader's SeedCommand™ system.
With many other product launches and technology advancements along the way, this brings our history lesson to current day where Ag Leader employs over 200 people, with staff located across the continental US, Canada and Europe. Ag Leader Technology is a leader and driving force behind precision agriculture innovation, offering the simplest and most complete package of precision farming technologies.
Become a fan of Ag Leader on Facebook today, and get the latest precision ag videos on the YouTube channel. For more information about Ag Leader products and services, or to visit the blog site, go to www.agleader.com.