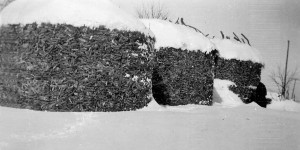 From planting to harvest, corn production has changed drastically through the years. I've talked about a 2-row planter, hand-crank corn sheller and 12-row combine head, but another memory from my childhood reappeared the other day and I enlisted the help of my grandmother to dig up a photo.
On one of the "old places" there used to be a round, metal corn crib. It stood empty for all the years I could remember but served as a great playhouse and dog kennel in its later years.
A corn crib was used to dry and store corn. After the harvest, corn, still on the cob, was placed in the crib either with or without the husk. The typical corn crib had slats in its walls. These slatted sides of the corn crib allow air to circulate through the corn, both allowing it to dry initially and helping it to stay dry. The slats expose the corn to pests, so corn cribs are elevated above the ground beyond the reach of rodents. (The corn crib that I used to play in sat on a large concrete slab.)
Metal grain bins with drying systems started popping up around 1907. Since then, farmers have efficiently harvested, dried and moved thousands of bushels of corn each year.
Needless to say, I didn't play in any grain bins (farm safety!), but they did present another source of childhood enjoyment – climbing the ladder all the way to the top. What a view! If you have a fear of heights, it's not recommended.
Until our next history lesson …