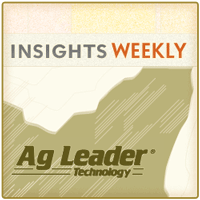 As noted in a previous blog post, Ag Leader Technology beginnings took shape in the basement of Al Myers in 1986. Since then, the company has grown to provide a complete line of precision farming technologies, from planting to harvest and from field to office.
We last left of in 1995 when Ag Leader had sold over 1,500 yield monitors. The next year, the first Ag Leader customer training sessions were held and GPS first became available with the introduction of the GPS 2000 receiver. By the following year (1997), over 4,000 Ag Leader yield monitors had been sold and the company employed more than 55 experts.
In 1998, Ag Leader revolutionized precision farming again by giving producers the power of on-the-go application control with the PF3000™. Experiencing good "growing pains," the company moved to a new facility in Ames, Iowa, and in 1999, introduced the Lightbar.
The next six years brought about user-friendly mapping and management software solutions, the introduction of the EZ Guide® guidance system, the InSight™ display, the DirectCommand™ system, the AutoSwath™ feature, EZ-Boom, and SeedCommand.
By 2006, Ag Leader had come a long way from Al Myers' basement and entered the market with precision ag that fits in your pocket with SMS Mobile which works on any handheld PDA device running Windows Mobile 5.x – 6.5. All said, Ag Leader was taking leaps and bounds within the precision ag market by helping farmers use site-specific information to make profitable decisions.
Be sure to tune in this summer for "the rest of the story".
Become a fan of Ag Leader on Facebook today, and get the latest precision ag videos on the YouTube channel. For more information about Ag Leader products and services, or to visit the blog site, go to www.agleader.com.