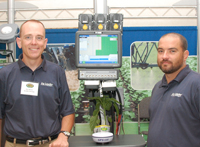 The growing use of precision technology in the southeast, especially among peanut farmers, led AgLeader Technology to become a sponsor and exhibitor at the Southern Peanut Growers Conference (SPGC) this year for the first time.
AgLeader's Russ Morman (left) says being at the conference was good for two reasons. "Number one, it's certainly helped to educate us as to where the peanut industry is going and number two, it's helped to show the growers in the area that AgLeader is definitely a big power in the precision ag industry and we're here to help them."
Listen to my interview with Russ from the SPGC here: [wpaudio url="http://zimmcomm.biz/peanuts/spgc11-agleader.mp3″ text="Russ Morman, AgLeader"]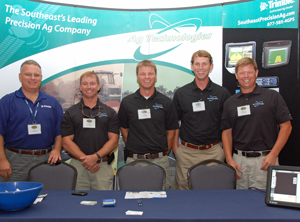 Ag Technologies and Trimble were also at the SPGC, sponsoring the conference blog for the fourth year.
Robbie Tabb of Ag Technologies, pictured here on the far right, says they love coming to the conference and talking to peanut farmers about how they can help them be more efficient. "The southern peanut grower can stand to increase yield by 300-400 pounds per acre simply by having GPS," he told me. "That's why we've grown so much in the southeast is because of our peanut growers. They've really seen an increase in profitability just by having the guidance on the tractor."
Listen to my interview with Robbie here: [wpaudio url="http://zimmcomm.biz/peanuts/spgc11-trimble.mp3″ text="Robbie Tabb, Ag Technologies"]
Both Scott and Robbie say the use of GPS for farming in the southeast has improved dramatically over the last several years, thanks to additional satellite availability and improved technology.