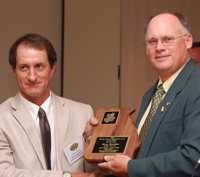 Kreg Freeman of Colquitt, Georgia is a double winner for his 2010 peanut crop that yielded a whopping 6626 pounds per acre.
Kreg, pictured here with University of Georgia Extension Peanut Agronomist John Beasley accepting his award as the statewide winner in the Georgia Achievement Club this year for the 100-300 acre category, credits a good part of his increase in profitability and yields to precision technology, as much as 500 pounds per acre. "We use GPS and auto steer tractors," he told me. "What I got paid for the auto steer part of the tractor in one year."
Kreg was also named as the Farm Press Publications Peanut Profitability Award winner for the Southeast during last week's 2011 Southern Peanut Growers Conference. That award is based not only on yield, but production efficiency, honoring those growers who produce the highest yields at the lowest cost per acre.
Listen to my interview with Kreg from the SPGC here: [wpaudio url="http://zimmcomm.biz/peanuts/spgc11-kreg.mp3″ text="Kreg Freeman Interview"]