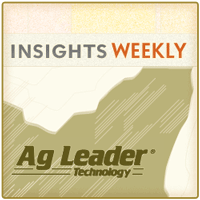 The telephone. The light bulb. The Model A Ford. These inventions came about in traditional fashion: a man has a dream, an idea, a theory; and with a lot of hard work and testing, he eventually turns that vision into a reality.
That's exactly what happened in Al Myers' basement in 1986.
Al Myers, an agricultural engineer, began developing ideas for a high-tech, ag-related product during the bottom of the farm crisis in 1986. He taught himself electronics and began tinkering in his basement, but little did he know this would be the start of something so much bigger.
For the next six years, mostly on his father's Illinois farm, Myers developed and tested the first on-the-go yield monitor. In June of 1992, Myers left his job, depleted his savings and started a home-based business – Ag Leader Technology.
It was then that Ag Leader started manufacturing the Yield Monitor 2000, the revolutionary on-the-go yield monitoring system. Today, the yield monitor is the centerpiece of the precision farming practice and the Yield Monitor 2000 has become the benchmark to which all other manufacturers attempt to match.
In Ag Leader's first year, Myers sold 10 yield monitors to farmers within 80 miles of Ames, Iowa, and in eastern Illinois near his father's farm. His technical support staff consisted of one: whenever farmers had questions, Myers made the trip out to the fields where the monitors were being used.
In 1993, Myers moved Ag Leader Technology from his home to a small building in Ames, Iowa, and hired the first full-time Ag Leader employee. Two years later, Ag Leader had sold over 1,500 yield monitors.
Today, Ag Leader products are backed by industry-leading support, with a staff of knowledgeable technicians dedicated to supporting Ag Leader's product line. Ag Leader currently employs over 200 people, with staff located across the continental U.S., Canada and England.
Stay tuned throughout the summer for the rest of the grassroots beginnings to today's Ag Leader Technology.
Become a fan of Ag Leader on Facebook today, and get the latest precision ag videos on the YouTube channel. For more information about Ag Leader products and services, or to visit the blog site, go to www.agleader.com.