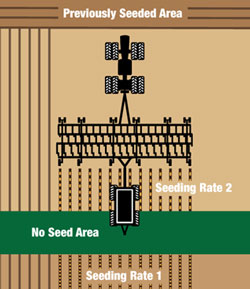 More reliability, efficiency and control are what Raven Industries promises growers can get with the new OmniSeed Advanced Air Seeder Control System, just introduced this week.
"OmniSeed allows for variable rate technology, it's a very scalable system with a lot of unique features on it that we think are going to be pretty popular in the air seeder market," Raven's Ryan Molitor said in an interview. The system consists of various components, including the Viper Pro Field Computer which Ryan says is the brains of the system, and Run Blockage powered by AgTron.
Ryan says the system is surprisingly simple to set up and easy to use. "And we have a vast dealer network throughout the world that is trained up and ready to service and support at point of sale and after," he said.
Find out more about OmniSeed on the RavenPrecision.com website and listen to my interview with Ryan about the system here: [wpaudio url="http://zimmcomm.biz/raven/raven-omniseed.mp3″ text="Raven OmniSeed System"]
Raven Industries is a proud supporter of the Agwired app for iPhone and Droid. Don't have it yet? Join the hundreds who do today and get Agwired, PrecisionPays, WorldDairyDiary and DomesticFuel news fast and easy on your smart phone! Click here.