Speaking of the farm bill . . . This past week we've asked the question, "What is your opinion about the farm bill?" Early in the poll there was not a large gap in response but then things changed and the choice of Needs Overhaul zoomed out in front with 61% choosing it. That's followed by 31% who said it Needs Minimal Change and then 8% with Leave as is. I guess the bottom line is that something needs to change, eh?
If you missed the first hearings by the Senate Ag Committee you can still watch them:
Food for Thought: The Role, Risks and Challenges for American Agriculture and the Next Farm Bill in Meeting the Demands of a Growing World
Opportunities for Growth: Michigan and the 2012 Farm Bill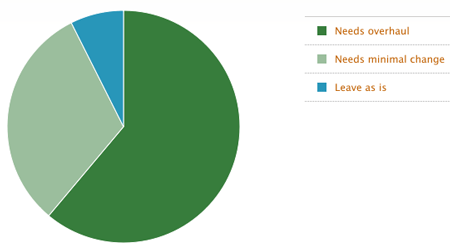 Our new ZimmPoll is now live. We're asking the question, "Have you ever used your smartphone to scan a QR code?" Well, have you?
And if you have any questions you want to suggest for future ZimmPolls please let us know.
ZimmPoll is sponsored by Rhea+Kaiser, a full-service advertising/public relations agency.