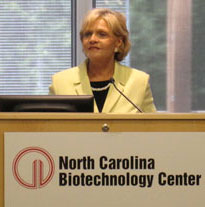 Plans to build a $13.5 million, 50,000-square-foot agricultural research center with 18,000 square feet of world-class research greenhouse space near Research Triangle Park were recently announced by the governor of North Carolina.
"As complex environmental issues – like the growing world population, limits to world food supply, shrinking natural resources, and the need to develop green technologies – become increasingly urgent, the new Ag-Tech Center along with North Carolina's commitment to education, innovation and agribusiness will ensure that our state plays a vital role in tackling those challenges," said Governor Bev Perdue, in making the announcement at the North Carolina Biotechnology Center.
The Alexandria Ag-Tech Center will feature cutting-edge individual greenhouse modules and support areas along with innovative shared amenities. Each greenhouse will have separate environmental controls, planting and support spaces.