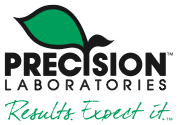 Now you can get the Precision Laboratories Mix Tank App without having to have a smart phone handy. Now you can "get it" from your online computer or tablet! Give it a try.

Precision Laboratories recently announced the release of an online version of its popular, new Mix Tank app for iPhone. Thousands of growers and retailers have already downloaded the app and are using it to prevent costly mixing sequence errors that lead to compatibility problems and nozzle plugging. Now, Precision Laboratories is able to offer the app to anyone with a computer and internet access.
Like the iPhone and iPod touch app, applicators can now choose from over 900 crop protection products from over 16 different manufacturers at www.mixtankapp.com. The Mix Tank app is able to process any combination of products and determine the correct mixing sequence. Users can also share their recommended mixing orders through email, Facebook or Twitter and can request the addition of any crop protection product not currently in the database.
The Mix Tank App is free of charge both online and on the iPhone. The iPhone app also features a series of training videos on proper mixing sequence from the adjuvant experts at Precision Laboratories, which can be viewed at www.youtube.com/mixtankapp.
The first of its kind, the Mix Tank App helps growers get the most out of every tank mix. Users can access the online app from any internet-connected computer at www.mixtankapp.com.
For more information, visit precisionlab.com.