Look up in the sky! It's a bird! It's a plane! No, it's a Multi-Rotor Remote Sensing System!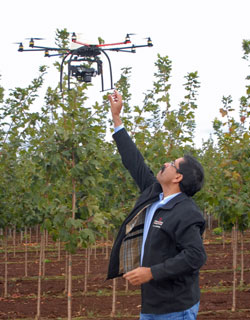 Somehow Multi-Rotor Remote Sensing System (MRRSS) just doesn't have quite the same ring as Superman, but these tiny remote-controlled, camera-equipped drones could give some farmers super powers to see their crops from a bird's eye view. University researchers from Arkansas, Florida and Ohio are currently studying the applications of the system which consists of a six- to eight-rotor, remotely controlled helicopter that provides a stable platform for the off-the-shelf digital camera that sends back video and stills to the ground crew. The system includes image recognition software that can teach itself to recognize individual trees or plants and count them. With different sensors, the machine could potentially detect disease, irrigation or fertilizer issues, predict crop yields and more.
The idea for the system came from Reza Ehsani, Assistant Professor and Precision Agriculture Specialist with the University of Florida's Citrus Research and Education Center. It's powered by a lithium ion polymer battery and a basic unit costs from $7,000 to $10,000. Ehsani says it would be a great tool for citrus growers to use to combat citrus greening.
Arkansas researchers are interested in how the system could help row crop farmers and the project in that state is being funded partially by the state soybean board. In Oregon, nurseries and tree farms have the most interest.