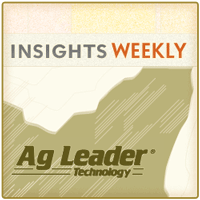 You may already be in the fields planting, but it's not too late to consider investing in automatic swath control – a tool that could save you time AND money, and save the environment. Not only does Ag Leader Technology's AutoSwath feature reduce seed cost by not doubling seed, but it also can increase yield potential in areas that are not double-planted. Depending on field size and shape, your seed cost savings could be anywhere from 3 to 12 percent.
AutoSwath reduces over-application and waste by automatically turning the applicator (liquid or granular) on or off based on field boundaries and already-applied areas as it passes over the field. The system reduces input costs and increases application accuracy by minimizing skips and overlaps at end rows, fence rows and along waterways.
That's savings you can see.
Chad Huedepohl, Ag Leader DirectCommand Sales Manager, says growers should get out in the field early this planting season with AutoSwath … it will start paying you back immediately.
He says growers will see a direct savings on chemical and fertilizer costs.
Chad also says one of the benefits to AutoSwath is increased operator efficiency.
And, watch a video testimonial from a producer in New Windsor, Ill.
For more information about Ag Leader products and services, visit AgLeader.com.