Alltech is looking for videos that tell the story of how game changing innovations are helping farmers feed the world.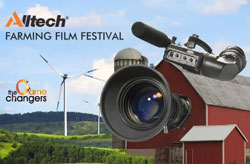 The Kentucky-based animal health and nutrition company has announced the first ever "Farming Film Festival," offering a $2,000 grand prize. Following the theme of the Alltech 27th Annual International Animal Health and Nutrition Symposium, The Game Changers, video submissions should focus on an idea or technology that helps farmers meet the tough challenges in their career.
"Emerging new media such as YouTube and other social media outlets have been game changers for many in the agriculture industry," said Dr. Pearse Lyons, president and founder of Alltech. "Sharing these game changing stories with others ignites a new wave of hope and innovation, and that's what we hope to do with the Farming Film Festival."
The rules are pretty simple. The video may be up to 2 minutes in length (including credits), it must tell the story of a farmer's game changer and it must include footage of the farmer on the farm. That's all there is to it. First prize is $2000, second is $500 and third is $250. First and Second Place Winners will be chosen by an independent panel of science and agriculture journalists. Third Place Winner will be the finalist with the largest number of online votes.
Participants in the Farming Film Festival may enter by uploading their video to YouTube and emailing the link to contest@alltech.com. Winners will be chosen by a panel of science and agriculture journalists based on creativity, quality of video, story interest and number of views and will be awarded up to $2,000 cash. The deadline for submission is May 13.
For official rules and how to participate, visit www.alltech.com/farmingfilmfestival.