Planting season has officially started with the first USDA crop progress report of the year released this week. Three percent of the nation's corn crop planted – the same as both last year and the five year average. Cotton is running on schedule with seven percent planted and sorghum is 20 percent.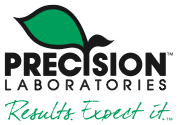 As the planters start moving through the fields, Precision Laboratories is reminding growers to get the most out of their fields by getting the most out of their weed control by following two simple steps:

1. Reduce costly tank-mix incompatibility issues by following the proper mixing sequence
Tank mix compatibility issues can cost you time and money – lost spraying time from plugged sprayer nozzles, lost product and the risk of cross contamination problems later. Precision Laboratories recently released a simple and unique way to identify the correct mixing sequence for your crop protection products. The new Mix Tank app for iPhone and iPod touch, is the first of its kind, helping you determine the accurate mixing sequence for pesticides, adjuvants and foliar nutrition products. With over 700 crop protection products from over 15 manufacturers, the new Mix Tank app can process any combination of products and determine the correct solution. Download the Mix Tank app at http://bit.ly/MixTank. And if you don't have an iPhone, you can enter to win a free iPod Touch loaded with the app and other tank mixing resources. To register for the Precision Laboratories/ZimmComm iPod Touch giveaway, click here.
2. Use the proper adjuvant package to increase herbicide performance.
University research studies using Kixor® technology from BASF, showed that the combination of Persist® Ultra and Border™ Xtra 8L from Precision Laboratories provided maximum weed control, optimal droplet size and reduced drift. The 2010 study compared Persist Ultra and Border Xtra 8L to an ordinary MSO. The combined technology of Persist Ultra and Border Xtra 8L outperformed the ordinary MSO and ammonium sulfate tank mix in controlling all three tested weed species – marestail, velvetleaf and waterhemp. Persist Ultra is compatible with a wide range of tank mix partners, reducing the chance for interactions in the sprayer. (include burn down photos here,)
For more information, visit us at precisionlab.com.