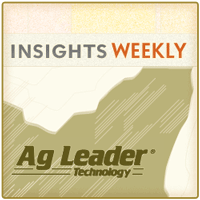 When you're dealing with Mother Nature, nothing is ever sure. But one thing growers can be sure about this 2011 growing season, with the help of the Ag Leader OptRx crop sensor, is nitrogen application. This technology allows the operator to put nitrogen where the crop needs it, leading to input cost efficiency as well as less environmental impact.
Basically, the sensor tells the applicator to apply less nitrogen on healthy corn plants and more nitrogen on weaker, unhealthy corn plants. The system can also be used on wheat.
Chad Fick, Ag Leader Crop Sensor Product Specialist, talks about the benefits of the OptRx system. (click to listen to the audio interviews)
Fick also discusses when the best time is to use the system, and what equipment it works on.
He also talks about the bottom line – your potential return on investment from using OptRx.
Fick has also traveled to Argentina and Europe, and says the growing conditions are different, equipment is different, but from a global perspective, it's all the same. Once growers understand and appreciate the system, they'll have the confidence they need to put it to work on their own operation.
And, watch testimonial videos from growers in Ohio and Missouri as they talk about the OptRx system versus "eyeballing it".
Visit the website for more information on Ag Leader products and services.