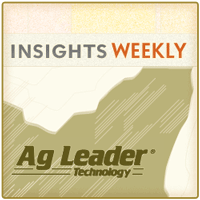 Technology is literally at the tips of our fingers. We have the ability to learn and read and study the latest advances in agriculture in a variety of different ways. Ag Leader provides information about how to use these technologies via user manuals, and for those customers who are more visual, newly created videos demonstrate the processes step-by-step. These videos can be accessed and viewed with iPads and Smart Phones or any device with access to the Internet. No matter what delivery vehicle or reading method you choose, it's a simple matter of staying connected; and you choose your preference.
For the visual learners: the newly created tutorial videos about the EDGE and INTEGRA displays explain some of the basic functions of the display as you prepare for the upcoming planting/application season. And if you have been through an Ag Leader Academy training, you can refer to these videos as a refresh of your training.
Mark Irvin, Ag Leader Technical Support Specialist, says, "The Ag Leader team is constantly creating tools that help growers stay up-to-date on our latest technologies. We understand that different people have different needs and they all learn in different ways. That's why we created these tutorial videos – in hopes of providing yet another means of education for growers as they prepare for the 2011 planting season."
The first video delves into how to import a management setup file (.MSF) into the display. An .MSF is used to import management items into a display, such as growers, farms, field names, boundaries, products/product mixes and guidance patterns. Importing guidance patterns is something new for 2011, and you need SMS v. 10.5 to export them to an .MSF file.
Another of the videos covers creating field boundaries on the EDGE and INTEGRA displays; it explains the difference between inner and outer boundaries and the importance of boundary offsets.
The remaining tutorials cover the creation of vehicles and using GPS offsets, as well as videos about Ag Leader's guidance and steering products.
Be sure to check back as Ag Leader will be developing training videos throughout the coming year. And, visit Ag Leader for more information on products and services.