Monsanto is facing a legal challenge from organic farmers over genetically modified seed.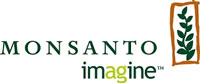 The Public Patent Foundation (PUBPAT) filed suit this week on behalf of 60 family farmers, seed businesses and organic agricultural organizations, against Monsanto Company as a preemptive measure "to protect themselves from being accused of patent infringement should they ever become contaminated by Monsanto's genetically modified seed, something Monsanto has done to others in the past."
"This case asks whether Monsanto has the right to sue organic farmers for patent infringement if Monsanto's transgenic seed should land on their property," said Dan Ravicher, PUBPAT's Executive Director and Lecturer of Law at Benjamin N. Cardozo School of Law in New York. "It seems quite perverse that an organic farmer contaminated by transgenic seed could be accused of patent infringement, but Monsanto has made such accusations before and is notorious for having sued hundreds of farmers for patent infringement, so we had to act to protect the interests of our clients."
Monsanto calls the organization's allegations "false, misleading and deceptive."

The plaintiffs' approach is a publicity stunt designed to confuse the facts about American agriculture. These efforts seek to reduce private and public investment in the development of new higher-yielding seed technologies. This attack comes at a time when the world needs every agricultural tool available to meet the needs of a growing population, expected to reach 9 billion people by 2050. While we respect the opinion of organic farmers as it relates to the products they choose to grow, we don't believe that American agriculture faces an all-or-nothing approach. Rather we believe that farmers should have the ability to choose the best agricultural tools to farm their own land and serve their own end-market customers. We are confident that these multiple approaches can coexist side-by-side and sustainably meet the world's food needs over next 40 years.