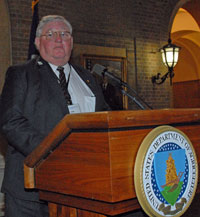 During the recent National Ag Day festivities in Washington DC, the Council for Agricultural Science and Technology (CAST) Executive VP/CEO Dr. John Bonner presented Senator Mike Johanns (R-NE) and Representative Collin Peterson (D-MN) with the President's Award which recognizes those individuals who have furthered the cause of agriculture, science, and technology.

Senator Johanns grew up on a farm and eventually became the 28th Secretary of the U.S. Department of Agriculture in January 2005. He is the Ranking Member on the Agriculture Committee's Domestic and Foreign Marketing, Inspection, and Plant & Animal Health Subcommittee, and he honored our nation's farmers and ranchers as part of National Agriculture Week in a speech on the Senate floor when he highlighted the hard work of producers across Nebraska and the nation who continue to lead the way in agriculture. Senator Johanns stays in touch with the CAST organization, and he recommended a study of the Convergence of Agriculture and Energy, a CAST publication that produced valuable research information.
Representative Peterson also has farming roots, and he has been in Congress since 1990. Currently the Ranking Member of the House Agriculture Committee, he has been involved in many agriculture bills, and the President's Award is yet another achievement to add to his many accomplishments. His agriculture staff has assisted the National Coalition for Food and Agricultural Research (NC-FAR) with locations for luncheon gatherings, and CAST has been able to present numerous Task Force Papers and Commentaries at these events.
Dr. Bonner is also chairman of the Agriculture Council of America, which sponsors National Ag Day activities, something he says is very important to help educate the public about American agriculture.
Listen to Chuck Zimmerman's interview with John on Ag Day here: [wpaudio url="http://zimmcomm.biz/agday/agday-11-bonner.mp3″ text="Dr. John Bonner Interview"]